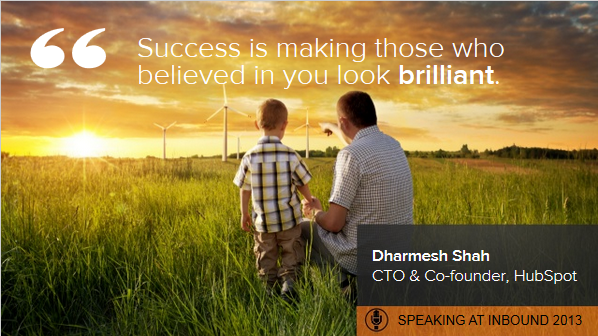 When I first started at HubSpot a couple years ago, one of the first pieces of content I was asked to help create was a compilation of marketing quotes from a bunch of really smart people in the inbound marketing industry. It was an amazing project to start with because it helped me get a grasp of the inbound marketing world. Who is working in the inbound marketing industry? What do they have to say about it? How can I think about my work differently?
Two years later, I still find myself going back to many of these quotes -- whether to get a little perspective, remind myself what the inbound marketing philosophy is all about, or even re-educate myself on some basic concepts. So, I wanted to resurface it, and present it in a new way. And I did -- by creating this SlideShare below.
I also noticed while I was going through that a lot of these folks have stuck with us through the years, and as I've been helping our company get ready for this year's INBOUND 2013, I was astounded by how many of these great people will be attending and speaking there this year. So, you know, this advice has stood the test of time (a couple years in "marketing" time is roughly equivalent to a couple decades, in my estimation.)
Anyway, I hope this presentation helps inspire you as much as it inspires me. And if you don't want to flip through the whole set of quotes, I pulled out a few that have always stuck with me -- you can find them right below the SlideShare.
Happy reading!
(Note: SlideShare seems to be experiencing some technical difficulties today, so if the SlideShare is not rendering properly below, you can download the PDF here.)
My Top 5 Favorite Quotes (Or, an Attempt to Narrow Down 101 Excellent Quotes)
1) "Success is making those who believed in you look brilliant." - Dharmesh Shah, CTO & Co-founder, HubSpot
2) "Spending energy to understand the audience and carefully crafting a message that resonates with them means making a commitment of time and discipline to the process." - Nancy Duarte, President & CEO, Duarte Design
3) "Make the customer the hero of your story." - Ann Handley, Chief Content Officer, Marketing Profs
4) "There's a lot of fear-mongering about "losing control" of your brand online, when, in fact, you've got control over as much as you always have: how you present your business and how you act." - Amber Naslund, Best-selling Author
5)
"The weird set an example for the rest of us. They raise the bar. They show us through their actions that in fact we're wired to do the new, not to comply with someone a thousand miles away." - Seth Godin, Best-selling Author

What was your favorite quote from this presentation? Or, what other quotes do you keep with you as you do your job for inspiration, guidance, or education?