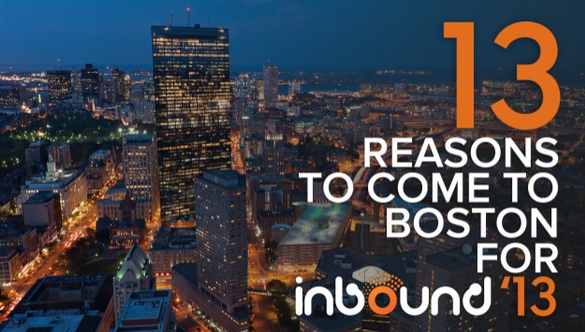 We don't think Boston gets hot enough in August. 80 degrees, even 90, just won't cut it this summer. That's why HubSpot is bringing the heat this year with INBOUND 2013, our annual inbound marketing event. Last year's conference was packed with industry thought leaders like Gary Vaynerchuck, entertainment from Cyndi Lauper, and a new product launch from HubSpot.
So, naturally, you may be asking yourself, "Self, how can things get any hotter than that?" We've put together a quick little slide show to explain just how hot this year's event will be, because we're itching to share our two favorite things with you -- inbound marketing, and the great city of Boston.
So now you've seen it for yourself. We've got an all-star lineup of INBOUND 2013 speakers in the works. The New York Times' blogger and world-renowned statistician, Nate Silver, will be taking the main stage as one of our keynote speakers. (He got his start in Major League Baseball statistics and went on to successfully predict the winner of the 2008 presidential elections in 49 states.) But that's just the start: Seth Godin, Scott Harrison, Nancy Duarte, Ann Handley, Dan Lyons, Marcus Sheridan, and David Meerman Scott are just some of the other marketing stars and thought leaders slated to give inspiring talks.
And you'll have the city of Boston at your fingertips -- which we're encouraging attendees to take advantage of. Boston isn't just the backdrop to INBOUND 2013, but the fuel that keeps our innovative fire burning. Beantown is home to an emerging tech and start-up scene, Duck Tours, the Freedom Trail, and Boston cream pie.
(Drooling yet?)
So when you aren't listening to inspiring speakers like Nate Silver, singing along at INBOUND Rocks, checking out product demos, or connecting with other attendees, go explore Boston. We can't wait to see you there.