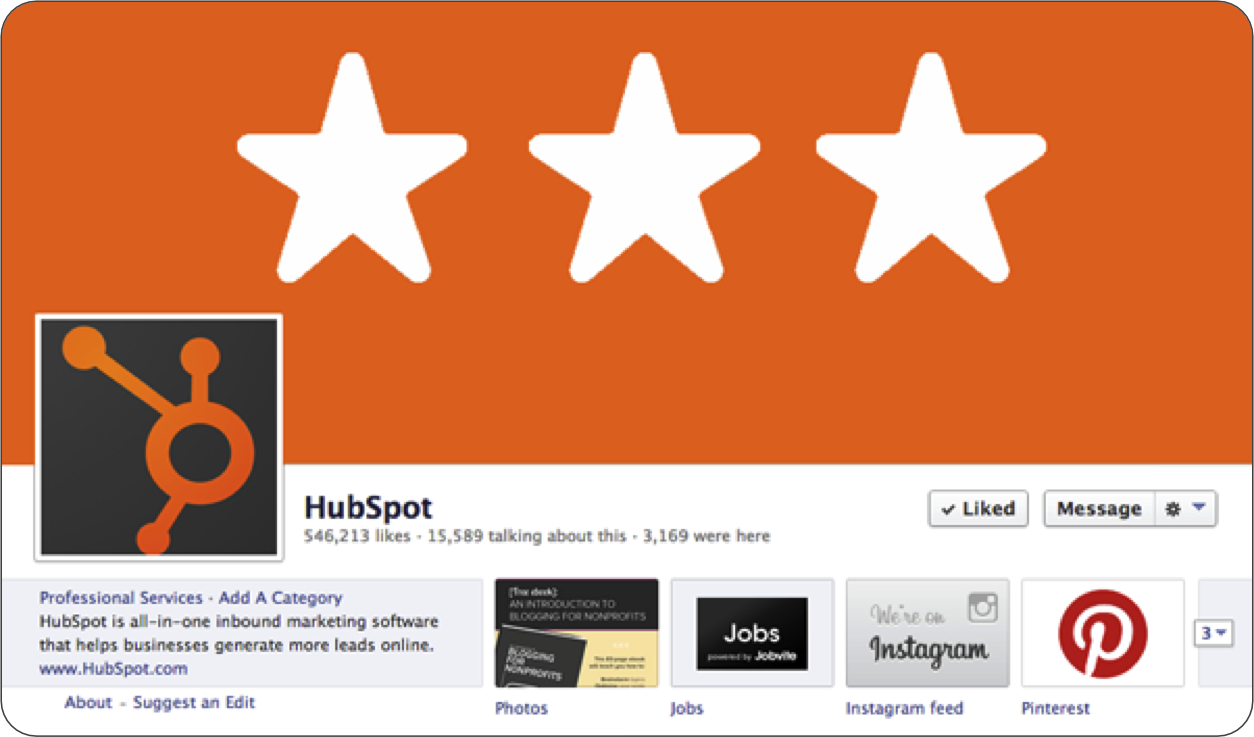 When people come to your Facebook Page, where do you think they first look? I'll give you a few hints. It's a visual piece of content that sits at the top of your Company Page. It takes up almost a quarter the screen on most desktop browsers. You probably guessed it by now ... it's your Facebook Cover Photo!
And since it's so noticeable, you want to make sure you're following the best practices for creating and optimizing your Facebook Cover Photo. Whether you're using Facebook to generate leads, close your next sale, or create a customer community, knowing how to make an effective Cover Photo is crucial. To help make sure your Facebook Cover Photo is in tip-top shape, check out the nine best practices below.
(Bonus: If you need help creating cover photos for all your social networks, we've created free templates you can use for Twitter, Facebook, LinkedIn, YouTube, and Google+. Download the templates here for free!)
9 Best Practices for Effective Facebook Cover Photos
1) Do abide by Facebook Guidelines.
It seems like a no-brainer, but obeying Facebook Guidelines is crucial to your Facebook Page existing in the first place. If you get caught violating them, Facebook could take action against your Page. And while Facebook doesn't explicitly say what will happen if you violate the Cover Photo guidelines, it's probably not smart to get your Facebook Page get taken down over a small Cover Photo infraction. Seriously ... just read and follow the guidelines.
2) Do make sure Cover Photos are the right size.
You don't want to spend all this time designing a Cover Photo ... only to have it look weird when you upload it to Facebook. Make sure your Cover Photo will look fabulous from the get-go by making sure it's the right dimensions (which are 851 pixels wide and 315 pixels tall, in case you were wondering). If you want a no-hassle way to make sure your Cover Photos are the right size, download our template for Facebook Cover Photos here.
3) Don't hide content behind your profile picture.
Even though you have a full 851 pixels by 315 pixels to design a Cover Photo doesn't mean that you have all of that to work with. Because of the way that Profile Pictures are featured on Facebook Pages, there's a section of your Cover Photo that won't appear unless you click on it.
See in the example below the section that's highlighted with a dotted line? That's the part of the Cover Photo that isn't immediately viewable to your Facebook Fans: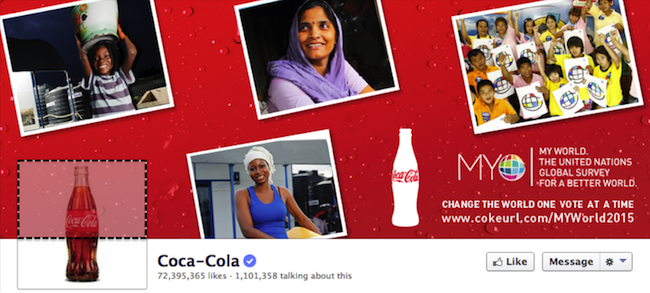 Of course, if you're getting creative with Cover Photos and want to run a contest with them, you might consider hiding an easter egg behind the Profile Picture. But, keeping that space clear is a general best practice.
4) Do center- or right-align the objects in your Cover Photo.
Since your profile picture is on left, you want to add some balance to your Facebook Cover Photo design by having the focus of the image be in the center or the right. Take a look at these Cover Photos -- which one looks more aesthetically pleasing?
Right-aligned focus: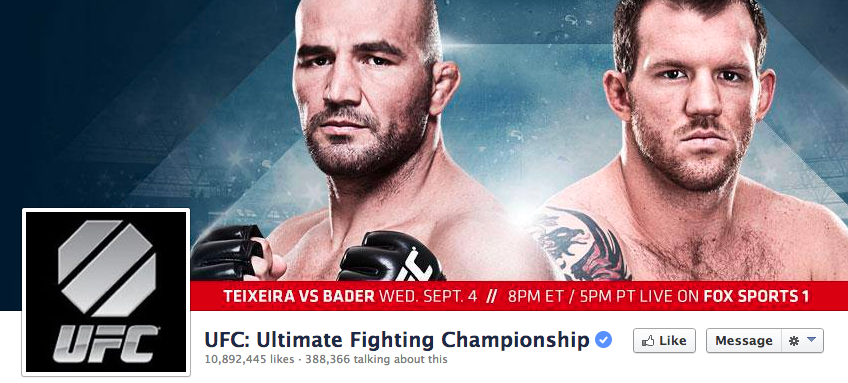 Left-aligned focus: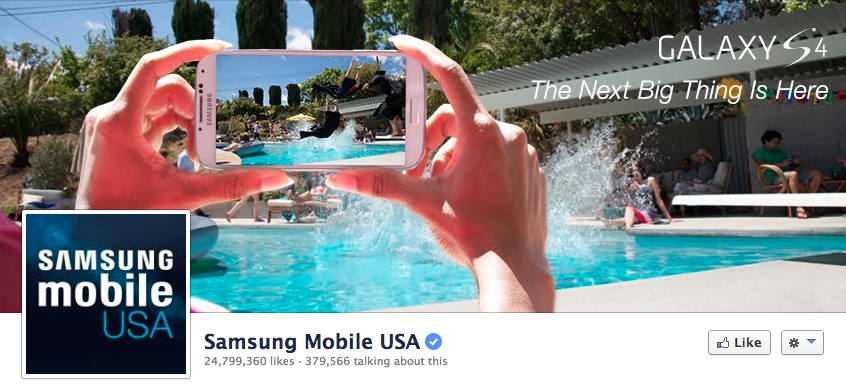 Doesn't the right-aligned cover photo look better? The biggest design elements (the profile picture, the first UFC fighter, and the second UFC fighter) are evenly spaced. In the Samsung cover photo, your attention goes immediately to the left side of the page -- completely missing the name of the product on the upper right side.
Still not convinced? Not only is adding balance a crucial element of design, but it also allows cover photos to be effective on mobile. On mobile, a much larger portion of your Cover Photo is blocked out. Here's what it looks like: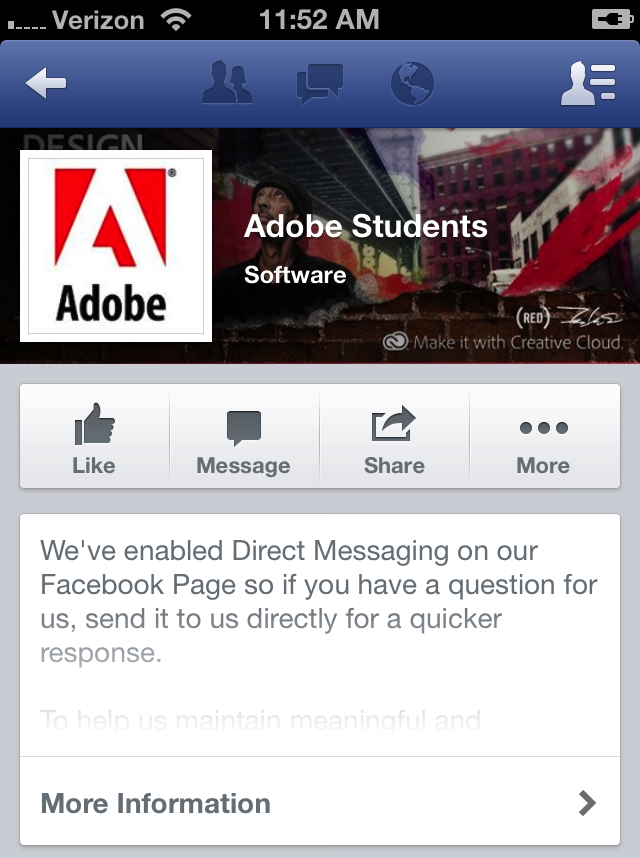 So from both a design and optimization standpoint, it's in your best interests to center- or right-align your visual elements.
5) Do integrate the Cover Photo design with other parts of your Facebook Page.
If you really want to get creative with your Cover Photo, try integrating its design with other parts of your Facebook Page. Make your Profile Picture and Cover Photo one big canvas, or just use your Cover Photo to point out special apps you have enabled. Here's what these Cover Photo integrations can look like.
Profile Picture and Cover Photo Combo: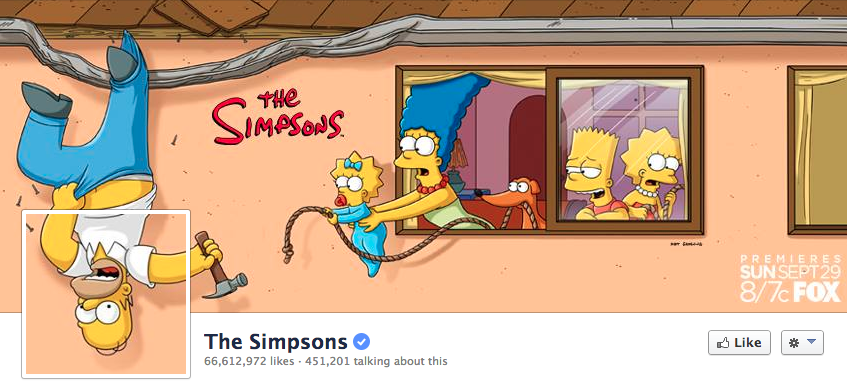 Cover Photo and App Combo:
6) Don't abide by the 20% text rule -- but try to stay visual.
Back in July, Facebook removed any reference to the 20% rule on text in Cover Photos ... but that doesn't mean you should go wild with using text in your Cover Photo. The previous rule said that only 20% of your Cover Photo could be text -- and personally, I thought that was way too restrictive for marketers -- but the sentiment behind the rule was a good one. If you're going to use text in your Cover Photo, keep it concise; your Photo will be much more informative and engaging.
7) Do include a call-to-action.
In the same Page Guideline update in July, Facebook allowed people to use calls-to-action (CTAs) in their Cover Photos. We were pumped -- this is a great, visual way to promote webinars, ebooks, or any free downloads you have up your sleeve. Here's our take on a Facebook Cover Photo CTA:
Want help designing a call-to-action your fans can't help but click? Download our free PowerPoint template to create irresistible CTAs.
8) Do include clickable links in the description.
This is the other crucial aspect of generating leads through Facebook Cover Photos -- in the description of your Cover Photo, include a URL to a landing page where people can convert to become a lead. This way, any time people view your Cover Photo, on your Page or in their News Feeds, they can access the download link.
Pro tip: To really optimize your links, shorten them so you can track clicks on them. Shortening and tracking features are available in tools like HubSpot and bitly.
9) Do include hashtags in captions, if applicable.
And, if you want to add an extra dose of discoverability, use hashtags in your Cover Photo captions ... but only when it's relevant to the cover photo. We'd recommend using one or two at most -- maybe to promote an event or Twitter/Facebook chat. Don't just squish a bunch of hashtags into your Cover Photo description to "get more eyeballs on your content" because chances are, people browsing those hashtags won't find your content relevant.
How do you make Facebook Cover Photos work for your marketing?