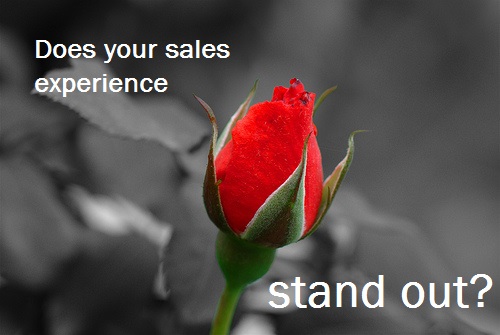 When I was invited to write a few posts for HubSpot, I decided that one of my topics would be about the "Be Remarkable" theme of their recent INBOUND 2013 conference in Boston and how we can apply that concept to Sales in addition to Marketing. What does it mean to provide a remarkable sales experience for your potential clients?
It's relatively easy to understand what a remarkable client experience would look like. We've all been customers, and therefore, it's very clear to us what great customer service means and what a great customer experience feels like.
Marketers (and especially inbound marketers) have been promoting the concept of remarkable content for a while now, so we probably have a good understanding of what remarkable means from a marketing and content perspective, as well.
But a sales experience is not something we usually associate with remarkable. Actually, it's often quite the opposite -- painful, irritating, frustrating, and tiresome!
What Does a Remarkable Sales Experience Look Like?
During one of my presentations at INBOUND 2013, I decided to guide the audience through an exercise which I usually force my salespeople to do. We start by describing the goal of any sales conversation. What is it? Do you know?
The answer should be that the goal is to have a great meeting -- which was made so by great conversation! That is it. We shouldn't enter a meeting with the idea of getting next steps, commitments, decisions, budgets, or timelines because when that becomes the goal, we no longer have great conversations. Instead, our conversations become manipulated and controlled. We eagerly await a phrase or expression allowing us to pounce.
Once we determine the goal, I ask the sales people to describe what would be an outstanding, great, or remarkable conversation. The lists usually look like this:
There was an open dialogue.
We focused on problems and outcomes.
We seemed to just click.
There was mutual trust.
We had actionable next steps.
They were asking the right questions.
Of course there are many more, and they usually include the cerebral, visceral, tactical, and strategic. Then we spin the exercise around and ask them to become clients ... and guess what happens? The list is no different.
The Big "Ah Hah"
Here it is: Potential clients want to have the same remarkable conversations with us that we want to have with them! It also means that when we have a remarkable experience with a potential client, then there's a good chance that they also viewed it as such. Conversely, when we have a horrible, frustrating, or dead-end conversation, there's a good chance that they also felt it was a waste of time.
The world of selling has changed drastically and potential clients have not only come to expect their sales professionals to lead them to great conversations -- they actually deserve that from us. If we simply start thinking of these "remarkable sales conversations" as an expectation of our clients and future buyers, then we have the wrong mindset and won't succeed. Modern, inbound selling has far more to do with mindset than sales ever had in the past. We need to consider it the right of every one of our potential customers. They have a right to quality, meaningful conversations.
That is one of the reasons why I describe Sales as being "more lucrative and more difficult at the same time" in my book Sales Shift. Most sales professionals currently are unable to ensure that these types of conversation are happening all the time. Occasionally they happen, but in most cases they happen because the client demands it. Research indicates that only about 23% of the sales population is capable of listening more than they talk, asking great questions, and not pitching at the wrong time.
These changes have already happened, whether your sales organization (or as an individual sales professional) recognizes it or not. The big question is: Can you get up to speed quickly enough to make the required adjustments? Be warned that the adjustments might sound easy (like listen more than you talk), but facts show that the actual execution is far more difficult, and there is definitely a learning curve.
Taking a sales organization from ordinary outbound to remarkable inbound is probably going to be harder than you think. Be advised that I am a professional and this is what I work on week in and week out with my clients -- please don't try this alone at home.
But there are a few things that you can do without the aid of a professional:
Get your sales team using HubSpot's Signals to better understand their prospects before they enter into a discussion.
Practice basic conversation skills in your office. Encourage, reward, and recognize it when it happens internally.
Practice active listening as a company (not just a sales team) and set the example.
Eliminate old-fashioned "sales" terminology from your culture. Words like close, budget, objection, and ultimate decision-maker actually put the focus in the wrong place before we even start.
Inbound selling, as I describe in my book and as Brian Halligan and Dharmesh Shah described it at INBOUND 2013, is the way of the future. Just as traditional marketing had to give way to inbound, so must traditional selling.
Frank Belzer is the VP of Corporate Training and Development at Kurlan and Associates, and author of the book Sales Shift: How inbound marketing has turned sales upside down making it more difficult and more licrative at the same time.
Image credit: pradeep_kumbhashi