And now a break to talk about a sponsor…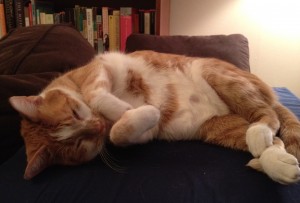 Regular readers are used to seeing my cats make weekly appearances as the stars of our open threads. But lately Olive has gotten all the spotlight, as kittens do, so here's a snapshot of Lucy … brought to you courtesy of  
SHEBA®
 cat food, a sponsor of the site. Lucy has spent the past seven years yearning for a playmate (since Sam is lazy and changing from one lounging perch to another is about as active as he gets) … but now that she has one in the form of Olive, she's conflicted: she's happy about the chasing and wrestling when it's on her terms, but she's annoyed when her downtime gets interrupted by manic kitten demands for more play. I think she wishes that she could turn Olive on and off at will.
Lucy is also the finicky cat of the household. Olive and Sam will eat just about anything and do it happily, but Lucy looks askance at such low standards and will go on a hunger strike before eating something that doesn't 100% please her. So when the people at SHEBA® cat food approached me about writing about  
SHEBA®
 Entrées for Cats, I thought it might end in disaster where Lucy was concerned, as the Great Food Strike of 2013 was fresh in my mind. (When I went on my honeymoon in October, the three cats stayed with my mom … and Lucy made her displeasure known by refusing to eat. My mom ended up having to ply her with a disgusting combination of sardines and cream.)
But to everyone's surprise, the strike was not repeated. Lucy embraced  SHEBA® Pates with open arms, er, paws, which gives me the chance to tell you about them now: They're all made with meat-first recipes and without grains, corn, gluten, or artificial flavors or preservatives. And the seafood entrees are made with responsibly sourced seafood and fish that follow the Monterey Bay Aquarium Seafood Watch sourcing recommendations, which are science-based, peer-reviewed criteria for ocean-friendly seafood. (And although Lucy has many terrible thoughts about what she would like to do to fish, she also wants to protect the oceans).
If you have cats, let them check out SHEBA®. (In fact, your cat is guaranteed to love it or you'll get your money back.)
Disclosure: This post was sponsored by SHEBA® Brand and BlogHer. I was compensated for my writing, but all opinions are my own.