And now a break to talk about a sponsor…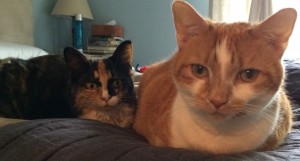 When the lovely people at SHEBA® approached me about writing about SHEBA® entrees for cats, I was hesitant at first. I'm protective of my kitties and probably more rigorous about what I feed them than about what I feed myself. SHEBA® won me over when I learned two things:
1. SHEBA® Entrees are suitable for all life stages of cats, which has become a necessity now that we're a household with a kitten and two cats. When we adopted Olive this past fall, we tried to feed her kitten food while feeding Sam and Lucy adult food, but it was impossible to prevent them from eating each other's food. (And that's bad, because kitten food can make adult cats fat, while adult food doesn't generally have enough nutrients for kittens.) When we switched to all-stages food that all three of them could eat, our lives got a lot easier. And so did the cats' lives, since they're no longer being shooed away from each other's food bowls. They love this, and now have a complicated system of rotating bowls mid-meal that they seem to have coordinated amongst themselves.
2. It's formulated without grain, which we've been transitioning the kitties to. (I've read enough pieces from veterinarians pointing out that nature designed cats to survive almost entirely on meat, with any grains coming only from whatever's in the stomach of their prey. And apparently a diet heavy in processed grains – i.e., many commercial cat foods – is thought to contribute to a bunch of feline health problems.)
Because SHEBA® met those standards, I took the plunge, feeding them the chicken pate, salmon pate, and tuna cuts entrées. The SHEBA® Pates are made with meat as the first ingredient, including real beef, poultry or seafood and don't contain grains, corn, gluten, artificial flavors or preservatives. The result has been a round of gluttonous meows for more. They've all been known to scarf down a new food eagerly for the first few days and then suddenly turn their noses up at it when it continues to appear on their plates, but they've been happily eating the SHEBA® entrees for a while now.
If you have cats, see if they like SHEBA® as much as mine did. (And because they stand by their product, the SHEBA® brand promises that your cat is guaranteed to love it or you'll get your money back.)
Disclosure: This post was sponsored by Sheba and BlogHer. All thoughts and opinions are my own.